According to statistics, around $1.5 trillion was spent in 2021 on digital transformation. And for 2023, experts believe that this value will reach up to $6.8 trillion. Similarly, more than half of worldwide companies have said that digital transformation is their main priority to accelerate business growth.
In a world where digital transformation is rapidly gaining momentum, it's evident that this trend will persist into the foreseeable future. As we navigate the digital age, it's only natural for businesses to increasingly embrace digital technology, leading to the digitization of various business processes for a more promising future.
But what exactly is the meaning of digital transformation & why does it matter today? Let's look at the meaning of digital transformation including examples and its uses in different sectors.
What is digital transformation?
The digital transformation process involves the use of digital technology to digitally improve operations, products, & services. With this process, companies around the world can increase their efficiency, productivity, and innovation.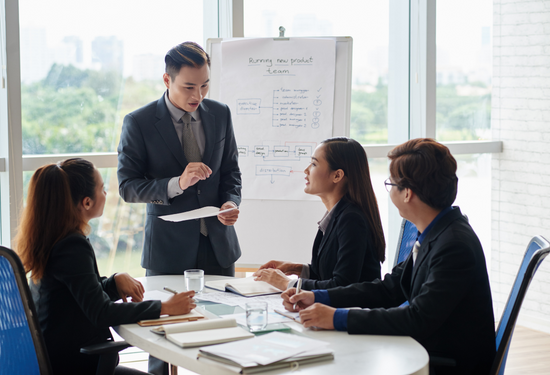 Similarly, it also leads to improved customer experience, which in turn leads to more customer retention & more sales. In short, it is a win-win situation for both the companies as well as the end users. With the implementation of digital technologies, a change management strategy enables companies to plan, implement, and manage the transition to ensure success.
The changes should be planned and implemented in a structured manner, taking into consideration the impact on existing processes, systems and people. Lastly, creating new operating model that aligns with the current business strategy should be a priority. Successful digital transformation requires an organization to have a long-term vision and strategy in place to ensure that the technology, processes, and people are aligned in order to achieve the desired business outcomes.
Digital Transformation Examples
To help you understand this concept more easily, let's look at some organization's digital transformation strategy examples:
Brick & Mortar Store
The first example is of brick and mortar store. Normally, such a store requires renting out a physical sale and hiring staff to deal with the customers. However, the same can be achieved by creating an online e-commerce store which will remove the need for paying rent and hiring a lot of staff.
Similarly, it will also be easy to scale the online store as compared to a brick-and-mortar store. Last but not least, an online store is accessible from any part of the world, but a brick-and-mortar store has limited accessibility.
During the Covid-19 pandemic, many physical stores evolved and embraced transformation efforts. Now, many stores are offering online services. With the new digital age, the use of mobile devices is widespread, thus making it easier to access online stores. Online stores have also taken over the way businesses are done, making it easier to shop from the comfort of your home or office.
Marketing Campaigns
Another example is related to marketing campaigns… Back in the day, it was common for companies to rely on print mail campaigns for promotion and marketing. But with the help of digital transformation, the same can be achieved with an email campaign.
In fact, an email campaign will help a company to totally remove the costs of buying paper, printing, and even postage. In addition, an email campaign is easier to scale and can even be personalized.
After looking at some of the digital transformation examples, I am sure you would have started to imagine all the possibilities & benefits associated with this process. I mean, there is a reason why an amount as big as $6.8 trillion is expected to be spent on digital transformation in 2023!
Use of Digital Transformation in Different Industries
According to data from World Economic Forum, the use of digital transformation is on the rise across all industries. However, the sectors that are leading the digital transformation include semiconductors, energy, chemicals, pharmaceuticals, and logistics.
But this doesn't mean that its use is only limited to the sectors mentioned above… You can look at any industry, and you will likely find the use of digital transformation on a massive scale. In fact, the trend of digital transformation is a lot higher in the industries that were still relying on old & mechanical methods.
So without wasting time, let's look at some major industries and see how the use of digital transformation has helped them.
Field Force Management
One particular sector which has gone through digital transformation is field force management or field service management. This usually involves the optimal management of the workforce working at a location that is outside the company's property.
If we remove the use of any technology from field force management, it can become a difficult & cumbersome process. For starters, a whole team of managers would be required to manage a big workforce. In addition, a lot of paperwork will be involved as well, and the whole process will be very inefficient & time-consuming.
But with the use of field service management software, everything can be done with relative ease. From keeping track of employees' work hours to how much time is spent on various projects and clients, a lot can be done! An organization must also be able to track the location of its employees, helping them to ensure that they are working efficiently and that their tasks are being completed in a timely manner.
One particular company that has totally revolutionized field force management is Tarkie. Tarkie offers companies the Philippines' best in field work automation. From digital forms, which of course, can save you time and money compared to manual forms, to automating redundant tasks leading to improved customer service and efficiency.
Healthcare
The Healthcare sector is yet another sector that has jumped on the bandwagon of digital transformation. With the use of innovative technologies, the healthcare sector can enjoy a lot of benefits. For starters, it leads to increased efficiency in hospitals and saves valuable resources.
But its benefits are not just limited to the clinics and the healthcare units. In fact, it also allows the patients to avail of services quickly and at a fraction of the cost. Some additional benefits include virtual visits, telemedicine, connected ambulances, and the automation of different processes.
With the use of technology, patients' data can be stored in the cloud and can be accessed by any doctor from the hospital. Similarly, it also makes it easy for patients to schedule appointments or even get consultations through video chat.
Supply Chain Management
The Supply Chain Management sector plays a key role in our modern economy, and any challenges in this sector can have widespread effects. But the use of new technologies is also innovating the supply chain sector and leading to a range of benefits such as:
Decrease in the costs.
Noticeable increase in efficiency.
Improved customer service.
Increased efficiency
In supply chain management, there are a lot of areas where the technology can be applied, such as supply chain operations, inventory management, transportation, distribution, data procurement, etc.
Conclusion
If your business is still relying on non-digital technology to get things done, then it is time for a change! With digital transformation, you can get more done in less time while also increasing efficiency & productivity. And this is just the start – The actual list of benefits associated with digital transformation is endless.
If you are based in the Philippines, then feel free to check out Tarkie, which is leading the digital transformation in the country. We offer services in field force management and can help you with sales force automation, field force management, store check, and employee productivity.